Product Summary
The MAX232CSE family of line drivers/receivers is intended for all EIA/TIA-232E and V.28/V.24 communications interfaces, particularly applications where ±12V is not available. These parts are especially useful in battery-powered systems, since their low-power shutdown mode reduces power dissipation to less than 5μW. For Low-Voltage, Integrated ESD Applications MAX232CSE: +3.0V to +5.5V, Low-Power, Up to 1Mbps, True RS-232 Transceivers Using Four 0.1μF External Capacitors. There are applications such as Portable Computers, Low-Power Modems, Interface Translation, Battery-Powered RS-232 Systems, Multidrop RS-232 Networks.
Parametrics
Absolute maximum ratings:(1)Supply Voltage (VCC): -0.3V to +6V; (2)V+ (Note 1): (VCC - 0.3V) to +14V; (3)V- (Note 1): +0.3V to +14V; (4)Input Voltages of TIN: -0.3V to (VCC - 0.3V); (5)Input Voltages of RIN (Except MAX220): ±30V; (6)Input Voltages of TOUT (Except MAX220) (Note 2): ±15V; (7)Output Voltages of TOUT: ±15V; (8)Output Voltages of ROUT: -0.3V to (VCC + 0.3V); (9)16-Pin Plastic DIP (derate 10.53mW/°C above +70°C): 842mW; (10)Operating Temperature Ranges of MAX232CSE: 0°C to +70°C; (11)Storage Temperature Range: -65°C to +160°C; (12)Lead Temperature (soldering, 10s) (Note 3): +300°C.
Features
Features: (1)Operate from Single +5V Power Supply; (2)Low-Power Receive Mode in Shutdown; (3)Meet All EIA/TIA-232E and V.28 Specifications; (4)Multiple Drivers and Receivers; (5)3-State Driver and Receiver Outputs.
Diagrams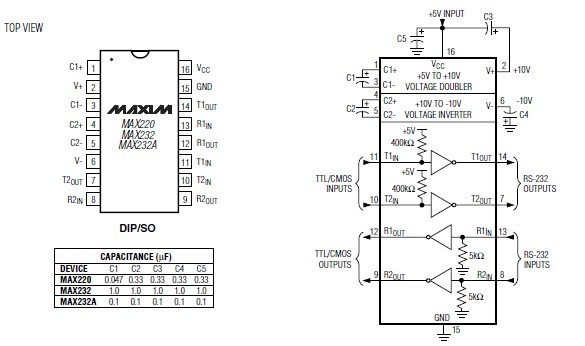 Image
Part No
Mfg
Description
Pricing
(USD)
Quantity

MAX232CSE

Maxim Integrated Products

RS-232 Interface IC

Data Sheet

Negotiable

MAX232CSE+

Maxim Integrated Products

RS-232 Interface IC 5V MultiCh RS-232 Driver/Receiver

Data Sheet



| | |
| --- | --- |
| 0-1: | $2.32 |
| 1-25: | $1.55 |
| 25-50: | $1.12 |
| 50-100: | $1.12 |


MAX232CSE+T

Maxim Integrated Products

RS-232 Interface IC 5V MultiCh RS-232 Driver/Receiver

Data Sheet



| | |
| --- | --- |
| 0-2040: | $1.00 |
| 2040-2500: | $1.00 |


MAX232CSE-T

Maxim Integrated Products

RS-232 Interface IC

Data Sheet

Negotiable